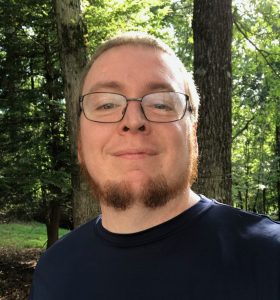 I am the Senior IT AV Systems Design Engineer in the department of Engineering and Operations, part of the Division of Information Technology at UNG. That means I design, install, and maintain anything that is audio visual: projectors, sound systems, control systems, cameras, lighting, Polycom, Extron, Crestron, Yamaha, Dante, Hitachi, Sony, NEC, and any other techy-sounding thing.
I am also the deacon of technology at Christ Family Church in Dahlonega, GA. All in house technology (audio, video, lighting, etc.) is under my care.
I attended NGCSU (now UNG, where I work) for my undergraduate work in Music Performance. I'm a graduate of SEBTS in Wake Forest, North Carolina, where I obtained a Master of Divinity with Biblical Counseling. I'm married to my awesome wife (Heather) and have an awesome family (Jackson, Hannah, Levi, Emmeline, and Malakhi)!
Current Audio / Visual Certifications
Audinate

Dante Level 1
Dante Level 2

Certified: October 29, 2018

Dante Level 3

Certified November 20, 2018

Crestron

Digital Media Certified Designer – 4K

License D-4K-000-150731-5806, Certified: July 31, 2015

Digital Media Certified Technician – 4K

License T-4K-100-150918-5550, Certified: September 16, 2015

Digital Media Certified Engineer – 4K

License E-4K-100-150918-2954, Certified: September 18, 2015

Digital Media Certified Streaming – 4K

License S-100-160916-1123, Certified: March 5 16, 2019

Master Technology Architect

License MTA-000-200619-1192. Certified: June 19, 2020

HDBaseT Expert

Certified: September 9, 2015

Chief Certified Partner

Certified: November 12, 2015

Information Technology Infrastructure Library (ITIL) v3 Foundations
Certified Technology Specialist (CTS)

Certified: September 2013 to September 2022

Extron

Extron AV Associate (EAVA)

License 1029719, Certified: December 2011

Extron Control Professional (ECP)

License 1029719, Certified: March 2016